Bio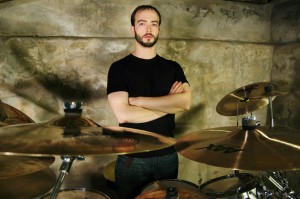 Elijah Wolf Kraft Litwin (b.1983) is a percussionist, guitarist, improviser, composer and teacher living in Philadelphia.  He graduated from the Esther Boyer College of Music at Temple University in 2006 where he earned his degree in Jazz Performance (drum set) and Music Technology.  He has been a recipient of the American Composers Forum: Subito grant and the Meet the Composer: Creative Connections grant. Though his area of expertise began largely in metal, Eli has gained significant experience playing in jazz, rock, classical & avant-garde idioms as well.
Eli has a number of current and past musical projects worth noting.  In 2011 he released his first solo recording project, Intensus, on Metal Blade Records and received much praise from the online metal community for the album's unique musical vision.  Eli's former band Normal Love released two albums and one 7″ single of groundbreaking modern classical/noise/rock, also to much acclaim.  His bands Inzinzac, Gun Muffs and Knife the Glitter all explore different amalgamations of jazz, metal and composition.  Eli has also composed a wide range of electronic music.
In addition to his career as a performing and recording musician, Eli is also a teacher with many years of experience.  Since 2005, he has taught percussion and guitar & directed ensembles at a number of schools in the greater Philadelphia area, grades 1-12, and is currently available for private instruction.  To learn more, please visit the Lessons section.
Eli is currently pursuing his Master's degree in Music Education from The University of the Arts and will be graduating in the Spring of 2014.