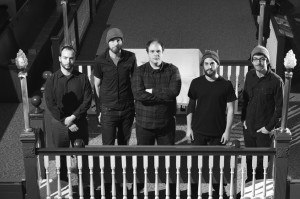 DEVEYKUS is the newest of trombonist Dan Blacksberg's re-imaginings of traditional Ashkenazic Jewish Music, and perhaps his most powerful to date. The mastermind behind Electric Simcha, a band that turbo-charged classic Hasidic melodies of celebration with the speed and sound of hardcore punk rock, Blacksberg delves into the spiritual side of Hasidic nigunim (wordless melodies) in order to draw out another new sound, this time inspired by Doom bands like Earth, and Sunn O))), from this well-worn tradition.
In 2012, Blacksberg brought together 4 other musicians whose work spans experimental rock, metal, and Jewish music to form the band that would execute this new sound, Deveykus. Meaning "To cleave" to god and referring to both an ecstatic, trance-like state brought on by the singing of nigunim, and the name of the style of nign meant to bring on that state, Deveykus is a new band that brings the sounds of Jewish music fully into the world of experimental doom metal.
Deveykus' debut album, Pillar Without Mercy, was released by Tzadik Records on June 18, 2013.
Deveykus - Wordless Ecstacy