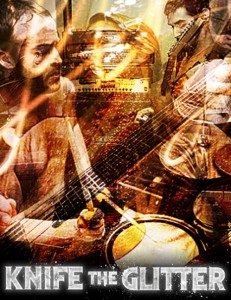 Knife the Glitter has been playing their own unique brand of technical and progressive metal since 2003.  After two different vocalists came and went the group decided to remain an instrumental trio.  Knife the Glitter has shared the stage with Dillinger Escape Plan, Between the Buried and Me, Dysrhythmia, Behold…the Arctopus, #12 Looks Like You, Psyopus, East of the Wall, Dub Trio, Trophy Scars, The Minor Times and lots more.
Knife the Glitter is currently recording a full length album.  Demos of some of those songs are available here: MYSPACE.COM/KNIFETHEGLITTER
Check out Eli's YouTube Page to see videos of him tracking drums for those demos.
Knife the Glitter - Highly Electric Squirrel