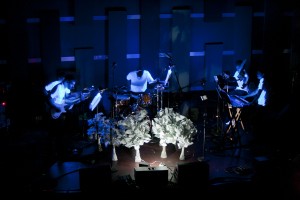 +++++Normal Love delivers a melted tundra of convulsive sound-therapy. Stoking the community since 2005, the initial conception of the group was an autonomous musical equivalent to Japanese human medical experimentation– a fuming laboratory for a kindred pool of musicians to push their own limitations, drawing upon virtually all of their creative resources, in attempt to synthesize and formulate something new without forgetting to be good. Taking cues from a variety of influences, members drew inspiration from the sounds of maverick artists working in such idioms as no wave, power electronics, outsider pop, noise, extreme metal, free improv, early industrial, and contemporary composition. After several changes in personnel, the group has now distilled into a far more severe and aesthetically focused four letter B-A-N-D. This latest gestalt is furiously working on material which is planned to be released on the follow-up to their debut LP.+++++
Normal Love is:
Eli Litwin – drums
Jessica Pavone – amplified violin/vox sometime
Amnon D. Freidlin – guitar/electronics/vox sometime
Evan Lipson – bass
Past members:
Merissa Martignoni-voice/samplers
Alex Nagle – Guitar
Carlos Santiago -Amplified Violin
Normal Love's debut album was released by High Two in November 2007. In August, 2009, Normal Love released the "Peel" 7."
Members have also played in bands such as Zs, Satanized, Anthony Braxton, Mary Halvorson,  Jessica Pavone, and Knife the Glitter.
Members have performed and/or recorded with various artists including: Zs, RUINS, Man Man, Pepi Ginsberg, Dr. Dog, Pauline Oliveros, Dynamite Club, Make A Rising, Thoughtstreams, Gene Coleman, Alvin Curran, Jack Wright, Forbes Graham, Katt Hernandez, and Nate Wooley.
NORMAL LOVE has shared the stage with artists such as: Matmos, Ex Models, Sun Ra Arkestra, Cousins of Reggae, Nautical Almanac, Ruins, Daughters, Zs, People, Chinese Stars, Ocrilim (Mick Barr), Aa (BIG A little a), James Plotkin, Psyopus, Weasel Walter, Tim Berne, Stinking Lizavetta , Dysrhythmia, and Genghis Tron.
NORMAL LOVE has been invited to perform at Bang on a Can Marathon, Guitar Festival @ The Stone (February 2007), Dark Forces Swing Blind Punches Festival (December 2006), the 1st annual Philadelphia POPPED! Festival (April 2007), and the Clark Park Festival (September 2007).
"NL, which recently released its debut self-titled CD on High Two, makes brutally intricate music, aggressive and perfectionist. If the Warriors had scratched past the Orphans and the Baseball Furies only to chance upon a shiv-wielding chamber ensemble, Normal Love would be perfectly cast."
-Shaun Brady, Philadelphia City Paper
Normal Love - Lend Me Your Mouth